Role playing game new generation
Alpha v1
Create Character Sheets
Easily create character sheets for your friends. Choose from several existing models D&D, Call Chtulu, Naheulbeuk... or create your own.
Use on the phone
share the links of the character sheets to the players for free. These are accessible without registration and directly on a browser from a smartphone or other device.
Manage your sheet on the GM dashboard
Follow the modifications in real time of character sheets of your game and interact with them easily.
Roll dices and use spells
Roll dices and use spells from your character sheet to display the result for you and the game master.
Manage your monsters and NPC
Create sheets for your non-playing characters and use their skills. This will allow your players to target your creatures in battle.
Save your games
Save your sheets, lock the modifications and resume the course of your game whenever you want.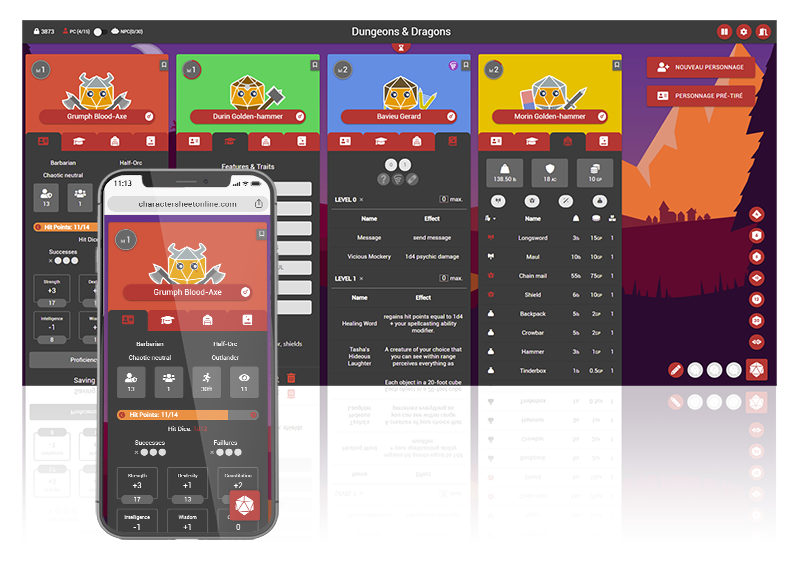 Discover Character Sheet Online
Discover the world of Astrenor
The adventurers of Astrenor is a role-playing game made by CSO team. This role-playing game offers a simple rules system using the features of charactersheetonline.com ideal for both novices and more experienced players. Choose a pre-made campaign on our site for quick and easy games.
Explore the mysterious universe of Astrenor and become a legend in this world at war !
Evolve in a medieval fantasy world in the midst of a military and political conflict for the control of Astrenor's resources.
Welcome to the Alpha version of Character Sheet Online !
Our website is under development, many features will appear in the coming days. To know our next updates you can follow us on our social networks.
Here are the next features that will be developed :
• Create monsters and NPCs sheets.
Your PCs will be able to target an NPC or a monster for hit him, using its weapons or skills !
• Create your template before you launch your game.
You will be able to customize your own character sheet template for your role-playing games.
• Export your character sheets in different games.
You will be able to export and import several character sheets in different games which used the same template.